Appreciate your purchase! You have made the right investment!
According to EMarketerLive, 36 percent of Internet Users said they Watched Live Video (November 2016.) The Projections for the Number of Live Streaming viewers using Facebook Live in 2017 are even Higher.
Nothing beats visually appealing images and content for garnering huge amounts of engagement. What more if it's done live?
Get this Upsell Pack with Full Private Label Rights (PLR)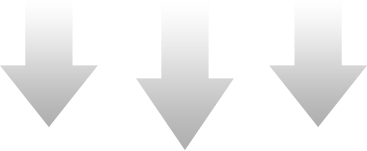 According to nearly 70 digital marketers, live video is poised to explode on social platforms in 2017.
Live video will be hot in 2017 because it lets brands engage with audiences in a way that's immediate, unscripted, unedited and more authentic than "canned" content.
If you haven't heard of it yet, you are missing out a lot on the social media game.
Not convinced yet? Here are 8 Facebook Live statistics that will surely make you start your first broadcast, now.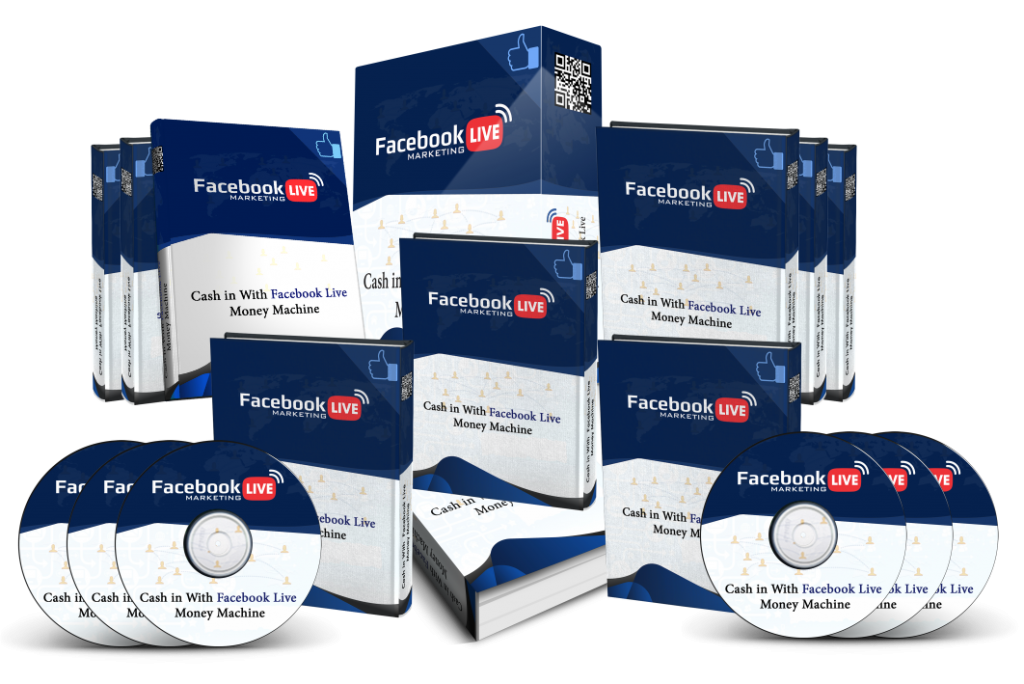 Check out the Following Stats.
Facebook Live rolled out globally on April 6. and it certainly looks like the beginning of a trend that is not slowing down any time soon.
Facebook Live videos are transforming the platform as media publishers and companies quickly adopt this new tool.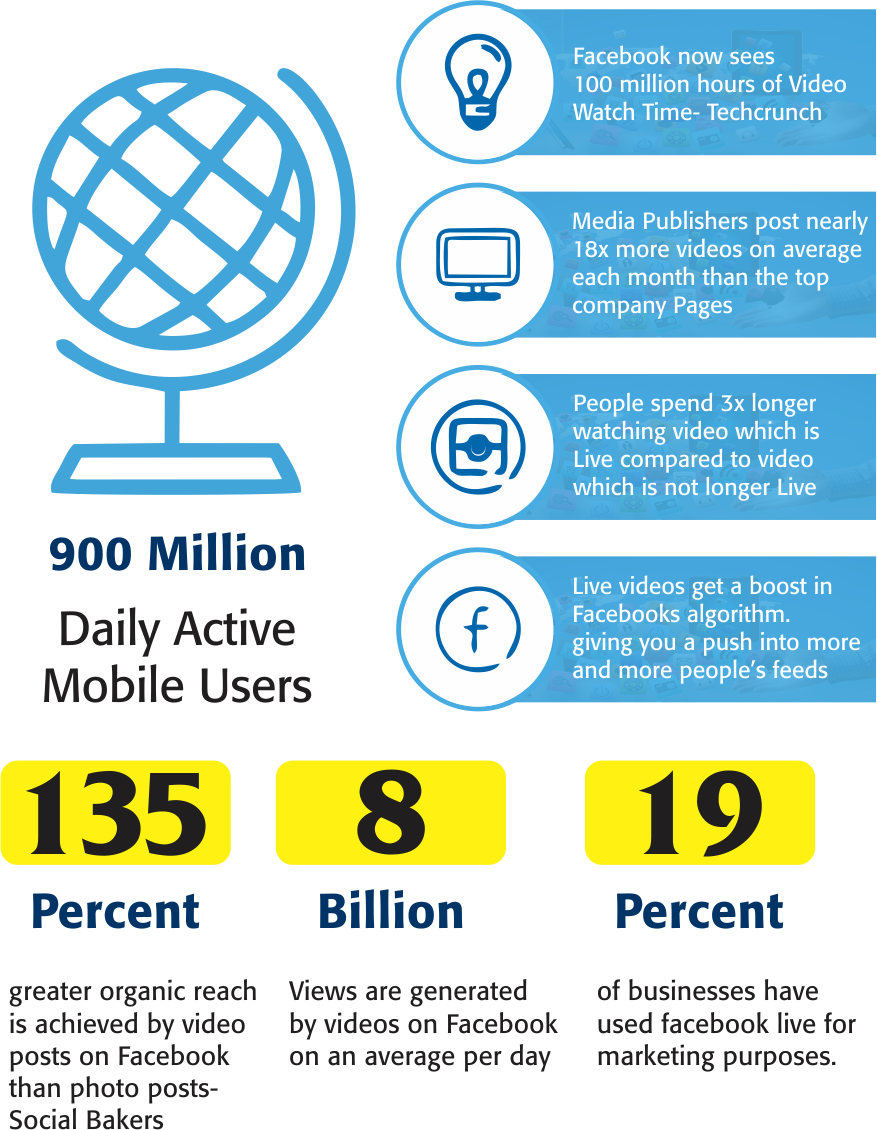 We are sure these stats make you want to try to push more videos to Facebook Live.
Video production is going to be a major theme for social media in 2017, and live video, in particular, is going to grow greatly.
The most important reason to test out live video is the increased reach. Live videos get a boost in Facebook's algorithm, giving you a push into more and more people's feeds.
Once you've downloaded our Facebook Live Marketing HD Training Videos and mastered the strategies given, you'll see that marketing on Facebook Live is a great way to grow your brand and open up new revenue streams for your business.
Explore the tools and tips shared in these video tutorials, and see which ones work best for you and your business.
Facebook is evolving. What started out as a place to share cat photos has turned into a network of 1.79 billion active users. That's billion, with a 'B'.
The platform has changed completely in just a few years, and staying up to date with those changes can be a challenge.
That's why we're highlighting some new features and the latest marketing tips for Facebook Live in this Video Tutorial series.
This video training course is jam-packed with genuine pointers and recommendations about using different Facebook Live features to market and grow your brand. You will discover state-of-the-art marketing tips for broadcasting, tips for creating winning content, best hardware and software recommendations, tips for Vloggers and how to repurpose these videos in your marketing.
And the best of all, you will discover a guide to get started with Ad Breaks and how you can make money on Facebook Live.
Get Access to this Pack…Only for $97
Grab this today in Just $47
Many businesses wonder why they should even care about live streaming. Worried that videos must be filmed in a studio with professional lighting and cameras, many business owners shy away from the very thought of streaming live. If you're like that, it's time to take a breath and jump in!
With live streaming, you have the chance to really connect with your audience, answer their questions in real-time and share product and service tips and tricks — so that you become the trusted source.
People love authenticity. The best part of Facebook Live videos is that they will give you an "into-the-moment" feels, potentially increasing your views, shares and audience reach.
Get more tips and get updated about creating and setting up engaging broadcasts on Facebook Live by downloading this incredible Facebook Live Marketing HD Training.
Get the maximum out of our video tutorials that are...
A comprehensive resource to market your brand effectively using the Facebook Live platform.
Easy to comprehend with a step by step guide
One time Investment and consistent returns
Vital in driving users to your most valuable content
So what do you get in this Amazing offer?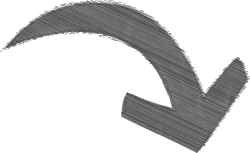 The Basic Pack that you purchased recently gives you 10 principal modules. If you purchase this Accelerator pack, we are offering 9 additional modules that will accelerate your sales and website traffic.
Check out the modules in the

Facebook LIVE Marketing
 

Accelerator Pack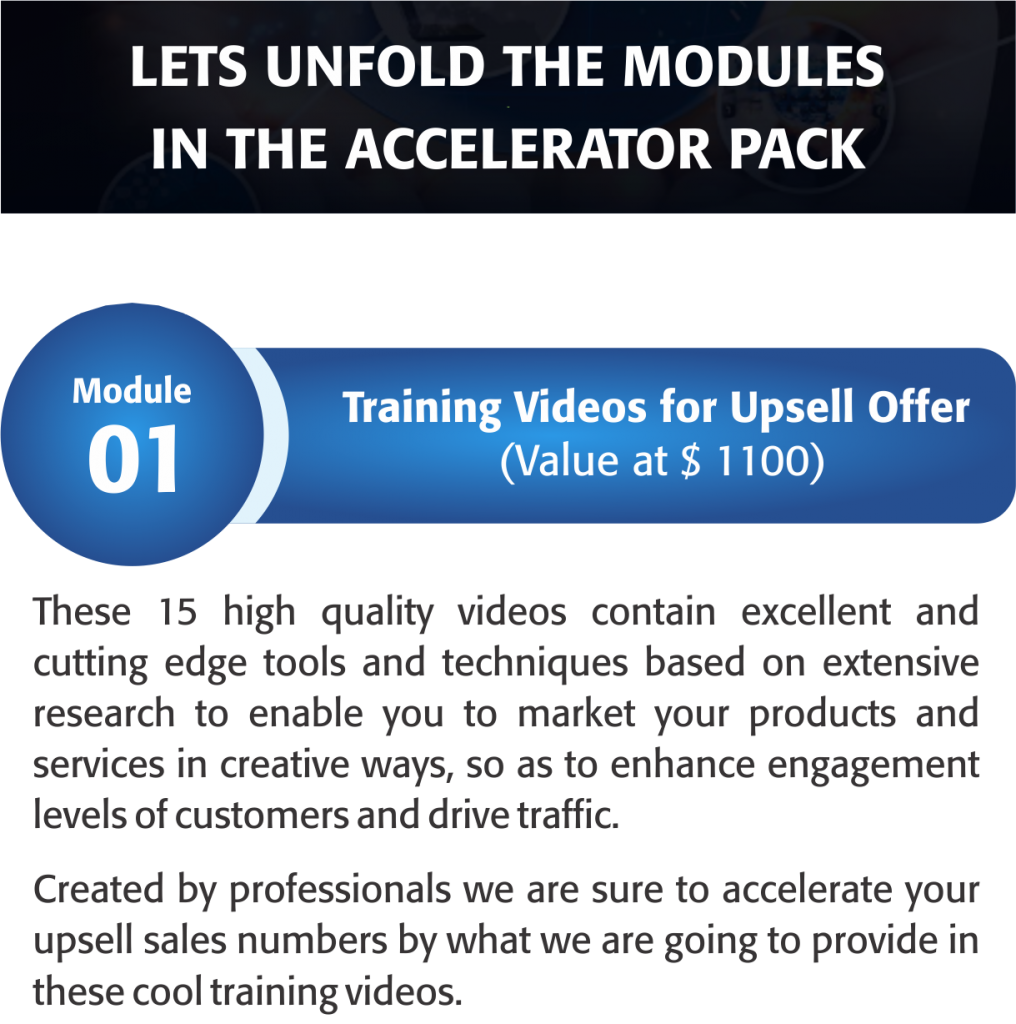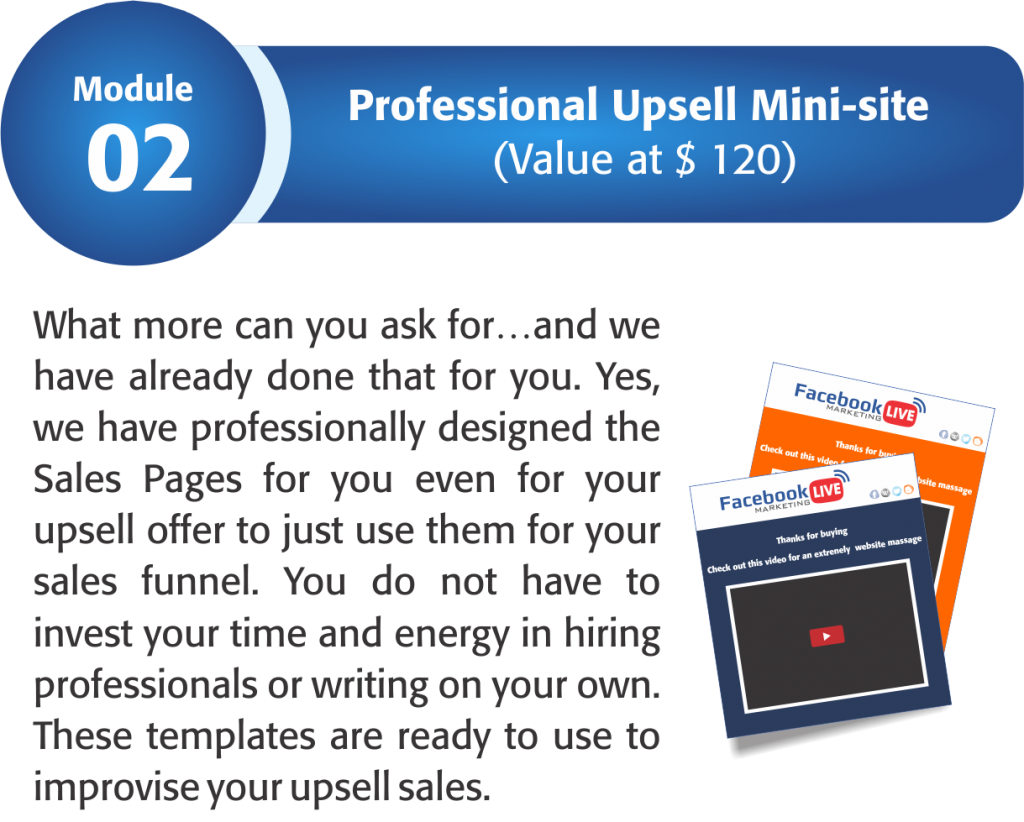 Get Access to this Pack…Only for $97
Grab this today in Just $47
And…And...And..!!
In Addition, We are providing Bonuses!!...
If you buy TODAY, you get free access to 2 remarkable bonuses: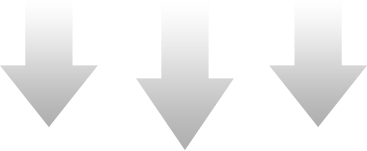 Bonus 1:    2 Cents Facebook Clicks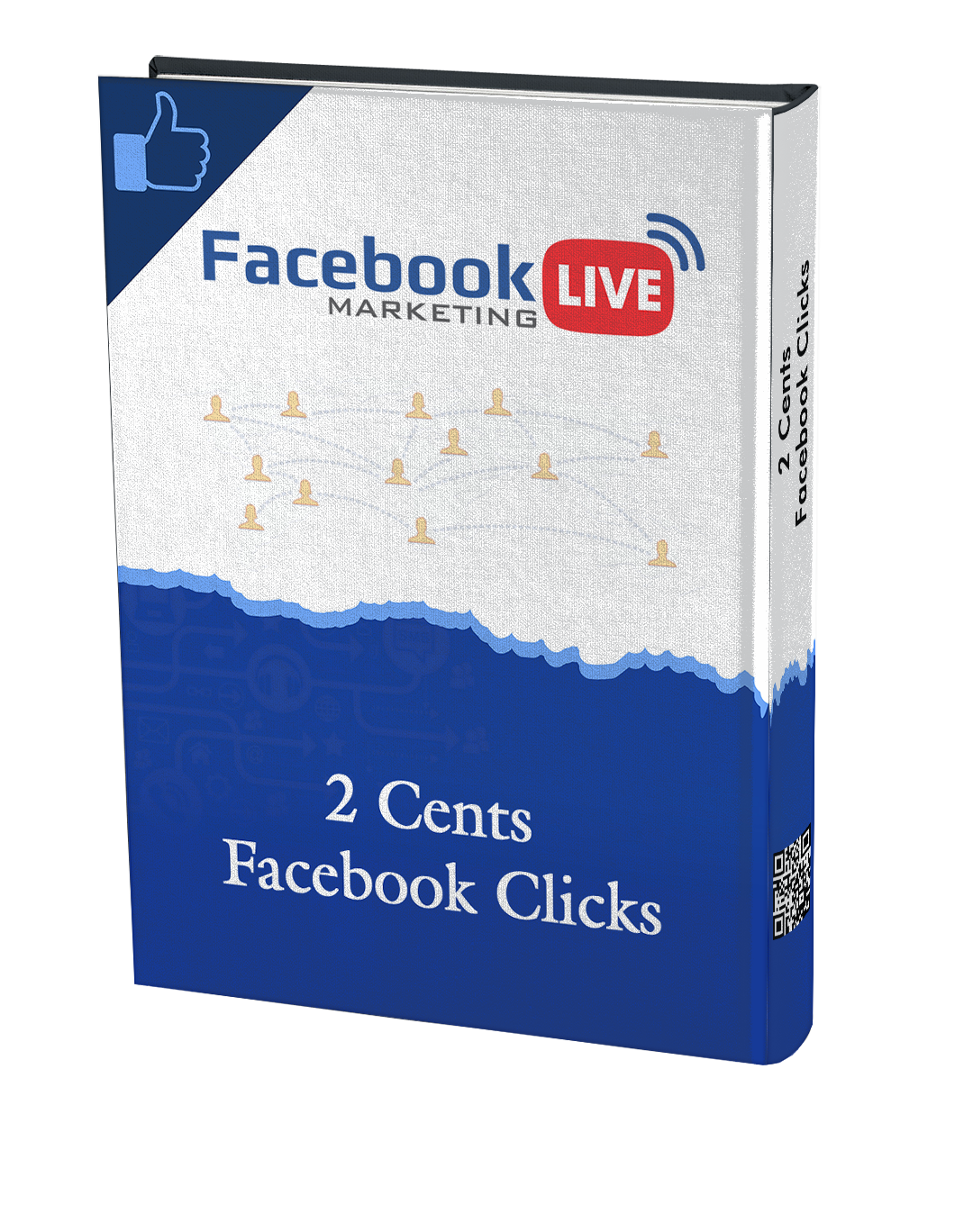 Bonus 2: 100K Dollar Publicity Blueprint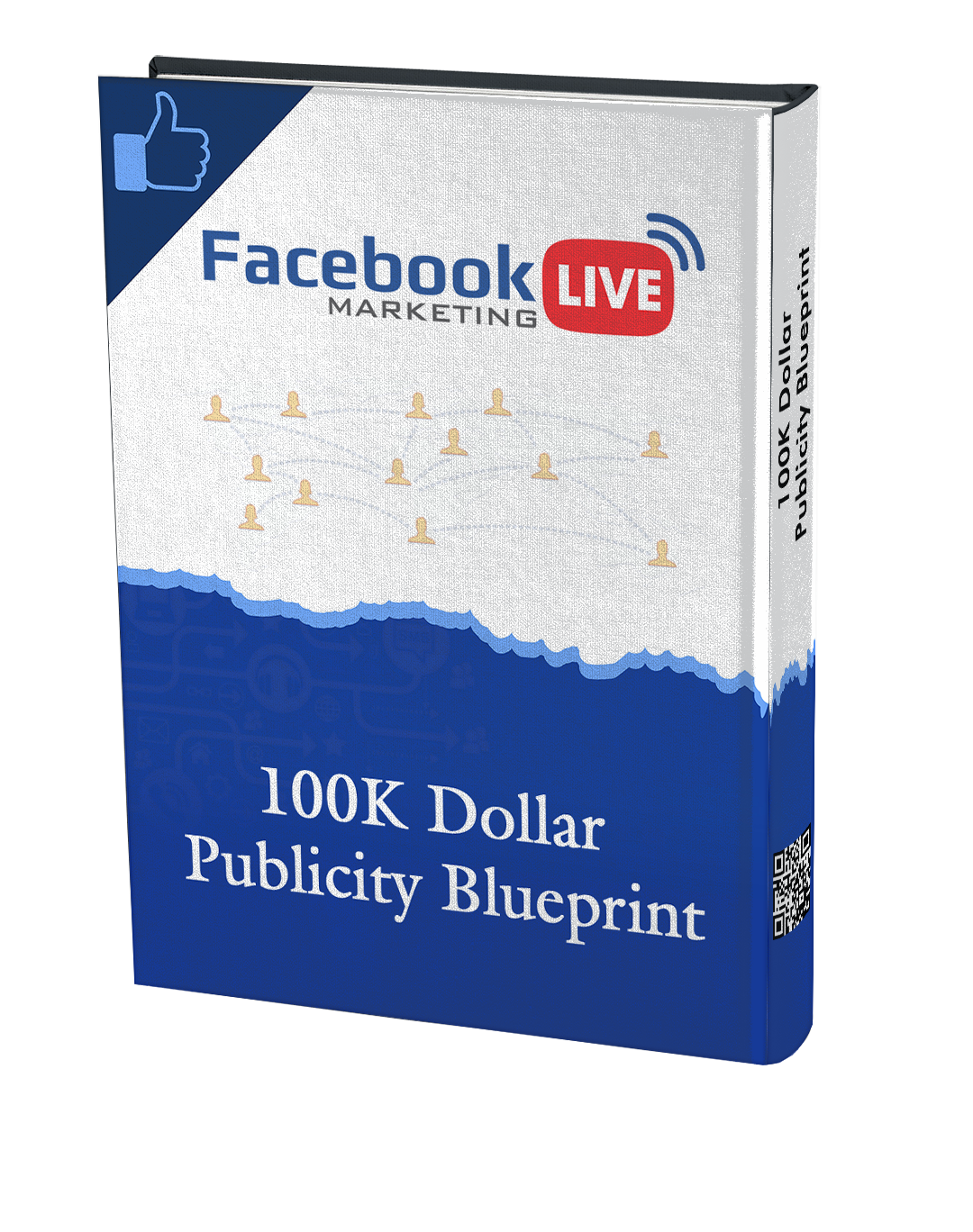 So with Facebook LIVE Marketing upgrade, you get access to use our hottest and demonstrated tools and tips which ensures that:
You can leverage the power of this exploding platform for growing your business to the next level.
Build brand rapport and loyalty with existing and prospective customers
Revenue generation across multiple marketing channels
Less, one-time investment with consistent high returns
Just apply them and reach the pinnacle of success.
So what is the Offer price for this Accelerator version?
Even you can imagine the effort and money spent in building such extensive research based products.
Yes, it is quite expensive to create these high quality audios, videos and graphics.
But we have decided to offer this valuable pack for an unreasonably low price. Not possible to find such an offer at such an absurd price.
Get Access to this Pack…Only for $97
Grab this today in Just $47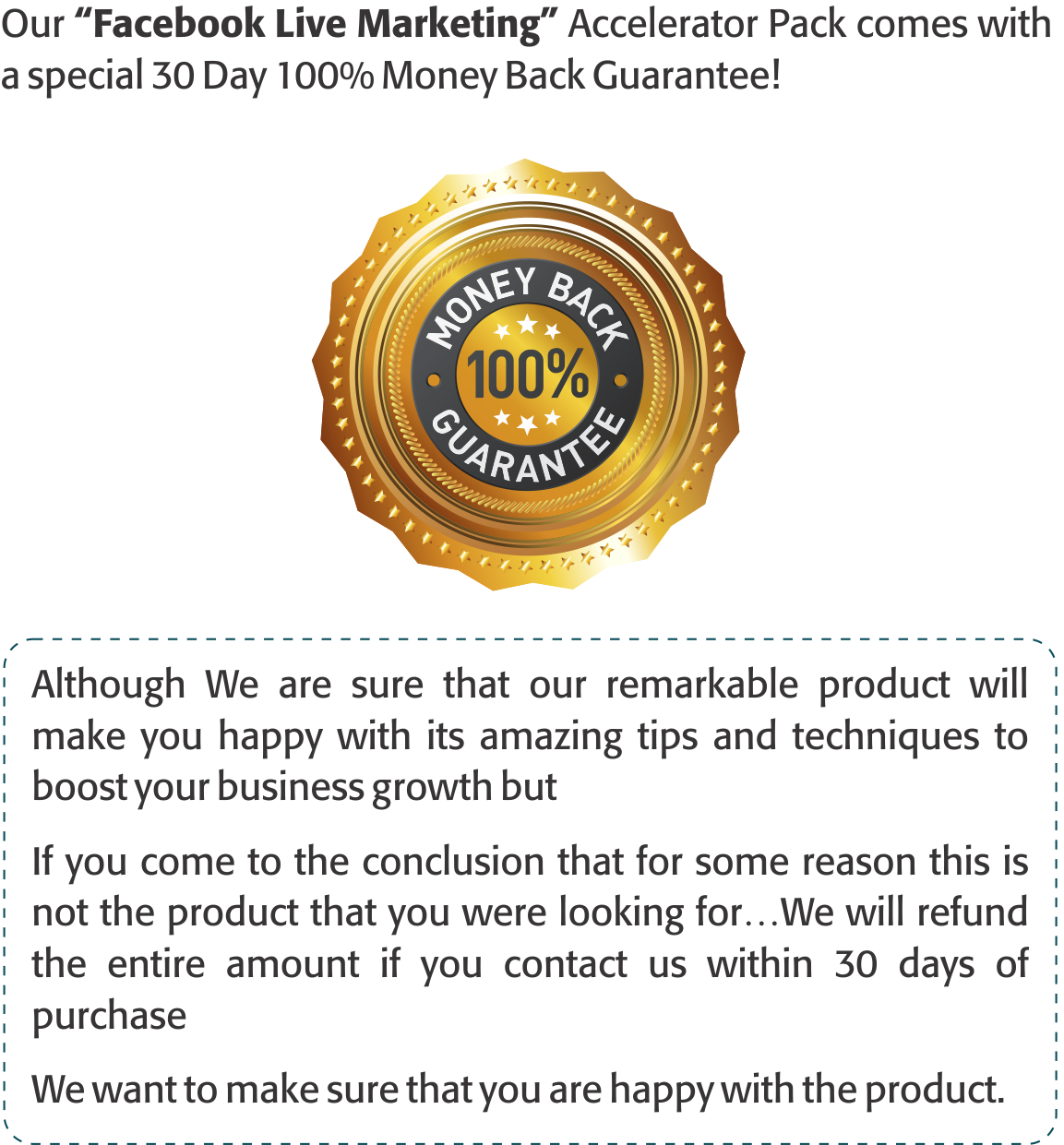 Our Facebook Live Marketing Accelerator Pack comes with a special 30 Day 100% Money Back Guarantee!
We want you to be totally psyched about our products. If at any time within 30 days of purchasing, you are not 100% satisfied, you may return it to us for a refund. No questions asked.
Businessman are waiting out there to make huge profits and we are giving it to you right here.
Wait for none….Get up and Get Started to grow your business
"Yes! I am eagerly waiting to buy this amazing upgraded pack to accelerate my Facebook LIVE Marketing sales and achieve my precious business goals more rapidly.
Please provide me my personal copy of upgraded "Facebook LIVE Marketing" Accelerator Pack so that I can have access to the latest tools and tips for the right Facebook LIVE Marketing.
Normal Price $97 - Launch Price ( 50% Discount)
ONLY $47
To your Happiness & Prosperity,
Team - Firelaunchers